Top Web Designing Trends for 2020 and 2021
Like most things, what's hot in web design changes over the years. Certain design trends and elements can instantly make your site look like a relic from the days of internet past. Keeping up with web design trends every year will help you keep your site looking modern and professional.
Not sure where to find the web design trends for 2020? We've got you. Our team keeps up with the latest design and development changes to create the best websites possible. We love sharing this information so you know what to look for in a new website.
In 2020, website design trends will be all about micro animations, organic features, minimalism, and thumb-friendly navigation, all while being extremely user-friendly.
Thirteen Web Design Trends and Predictions for 2020 and 2021
There are a few things that are always in style, like quick load speed and responsive (mobile friendly) design. However, the elements below are modern and set to be big trends in 2020.
1. Micro Animation
As you might have guessed from the name, micro animations are small animations. But in this case, small doesn't mean insignificant. Micro animations are extremely helpful when it comes to guiding users through their interactions with your website. They can also add an element of playfulness to your site, like Smashmallow did with the micro animations in their hero image:
Micro animations have been popular for a few years but in 2020, it'll be about using them organically. As Jonathan Maxwell, our UI/production designer, explained, we'll be thinking about how things move if they were on a curve or wheel instead of on a flat plane.
One of the latest web design trends for ecommerce sites is using micro animations to enhance the user experience and give shoppers a taste of what their products are like. This yoga clothing store is already using micro animations to show shoppers how their clothes fit and move on real people:
2. Organic Shapes
Geometric shapes were a big website design trend in 2019 but in 2020, it's all about organic shapes. Organic or fluid shapes are anything that doesn't involve straight lines. Think of the shapes that happen in nature, like hills or the way the edges of a lake or river are asymmetrical and winding.
Fluid shapes are a great way to break up sections of a website without harsh lines or angles. They're also great to use in the background, like the way Android uses circles behind products on their homepage: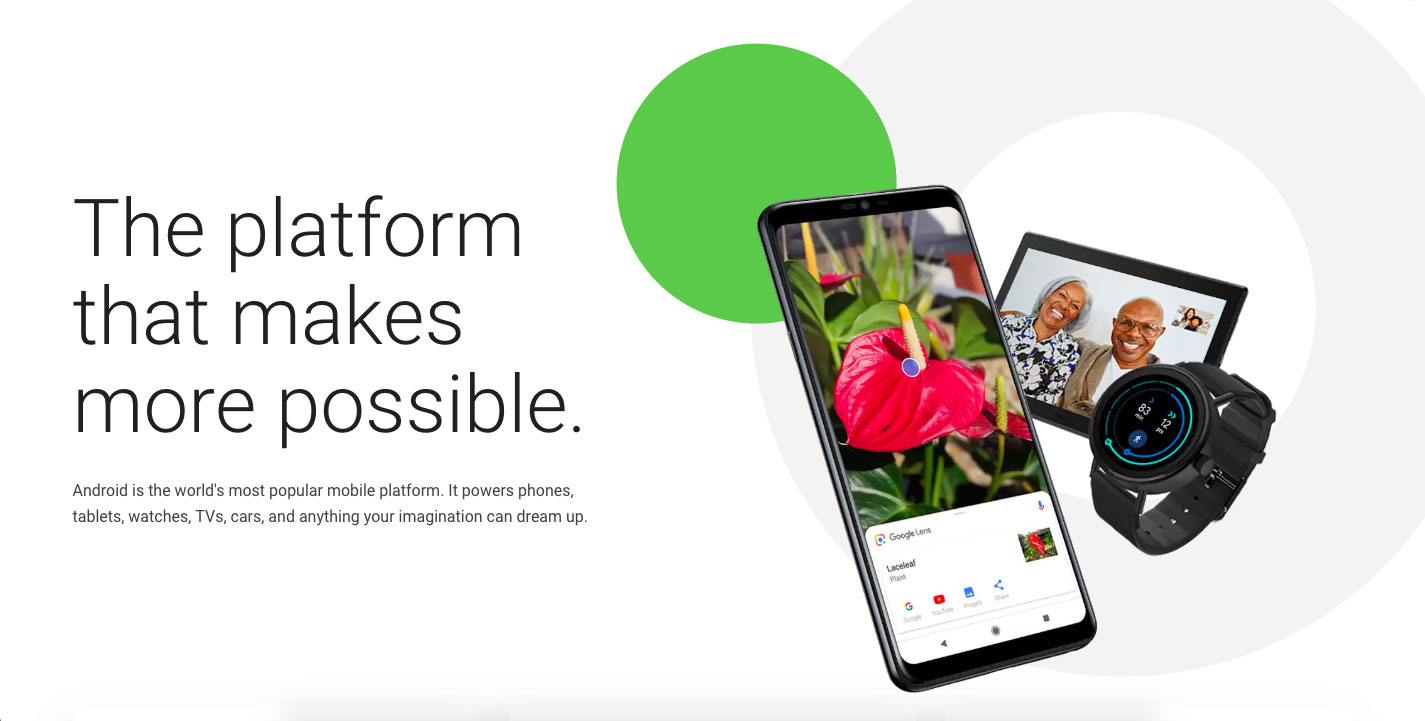 3. Minimalism (Flat Design)
Minimalism, sometimes called "flat design", isn't a new trend in web design, but it has typically been associated with a lot of white space (think Apple.) In 2020, we expect people will be experimenting with colorful minimalism. "It doesn't have to be all white to be minimalist," says Maxwell.
A great example of a site that does colorful minimalism well is Shopify. Each page of their site features a bold background color with clean text and minimal design elements to create a page that is both attention-grabbing and easy on the eyes. They're proof that minimalism doesn't have to be stark or boring.
4. Bold Color
Colorful minimalism goes hand-in-hand with one of 2020's biggest web design trends: color! Bold, bright, saturated colors help your brand stand out and goes against the soft neutrals that a lot of companies have chosen over the past few years.
bubly, the sparkling water company, is a great example of how a site can use bold, saturated color without overwhelming the eye. Their branding is all about colorful cans and their website is an extension of that:
They're actually checking off a few 2020 web design trends: organic shapes, minimalism, and bold color!
5. Color to Evoke Certain Moods
Along with bold color, we think using color mindfully to evoke certain moods will be big in 2020. Color psychology, the study of color's impact on human behavior, has been around for centuries and marketers have used it to help sell for nearly as long.
While the way we interpret colors has a lot to do with our own individual perceptions, there are some general feelings associated with colors. For example, green typically denotes nature and natural products while red symbolizes energy and passion.
In 2020, we think web designers will put even more focus on using color mindfully to evoke the mood(s) and feeling(s) a site is meant to elicit.
6. Thumb-Friendly Mobile Navigation
Responsive design isn't an option anymore. Your site should work well and be easy to use on mobile devices. But in 2020, web design will be focused on creating sites that are thumb-friendly.
What exactly is "thumb-friendly"?
We're talking about the way we use our phones. If you're reading this on your phone right now, look at the way you're holding it. Your fingers are probably wrapped around the back of your phone (or around a phone grip), leaving your thumb to do all the work. You probably look like this…
Spooky, huh?
Not really. That's how most of us use our smartphones and that's why thumb-friendly navigation is important. Putting the navigation bar, menu, and even contact buttons in the space your thumb can reach (the center of the screen) makes your site easier to use and improves your UX tenfold.
Here is a great graph showing the thumb-friendly areas of a phone screen:
7. Smart Video
Video has long been touted as a must-have for websites. People love videos! Video is engaging! It's the most effective online marketing tool!
While video is great, it needs to be thought out. That's what smart video is about: video with a purpose and meaning. Gone are the days of embedding a YouTube video on your site just to have one. One well-thought-out, high quality video is better than a dozen haphazardly assembled ones.
The way CEI uses video in their hero image is eye-catching but not intrusive. It is also a fun visual representation of what they do: provide affordable printers and copies to businesses in Raleigh.
8. Material Design
Material design is actually a design language introduced by Google back in 2014. Where traditional web design looks flat, material design is about using color and shadows to mimic the physical world and its textures.
Google's icons for their software suite is an excellent example of material design:
The shadows on the Gmail envelope and the calendar are especially good examples of material design. It's very subtle, but goes a long way in making the icons look three-dimensional. We expect to see a lot more material design in 2020!
9. Text-Only Hero Images
Newspapers always put their most eye-catching, important information "above the fold" to increase sales. The website equivalent of this is at the top of a page and is called the "hero section." A current trend to catch the attention of internet users who are bombarded by different web pages every day is removing the typical background image in the hero section and replacing them with eye-catching typography. A bold, unique font could be just the thing to get a user's attention quickly.
10. Vintage-Inspired Colors & Typography
It's true that the older we get, the more we look to the past as a time of life that was simpler and better. Tapping into the audience's sense of nostalgia, this trend doesn't simply create a throwback on the webpage; instead, it mixes vintage pieces with modern style. Try mixing vintage-inspired fonts and colors with modern imagery for an ultra trendy look.
11. Bold Fonts
Visiting a lot of websites for leading corporations will show you that bold typography is definitely on trend. Using heavy, bold fonts, the reader is instantly aware of the message, not necessarily the imagery. Combining these heavy fonts with neutral colors further emphasizes the headlines, quickly becoming an "image" of their own.
12. Data Visualization
Communicating data in an engaging way is a struggle. However, using data visualization taps into the fact that humans are visual creatures while still conveying the message you need to get across. Data visualization creates images out of your data that engage your reader and makes them want to learn more about your brand. Infographics and graphs are some of the most popular ways to bring data to life.
13. Dark Mode
Dark mode web designs serve a couple of different functions. On the practical end, they help reduce eye strain, a concern for many as we are spending more and more time looking at screens. On the aesthetic end, dark mode easily creates an ultra modern look for your website while giving you the ability to highlight other design elements just by darkening the elements that surround it.
Ongoing Web Design Trends and Standards
There are a few trends that were popular in the past few years and will continue to be big in the upcoming years.
1. Load Speed
Quick loading times have been important factors in UX and SEO for years. Akamai and Gomez.com have done studies on how people interact with different load speeds and found that 50% of users expect a site to load in two seconds or less when they click on a site. If it takes more than three seconds to load, they'll leave. (And it's not likely they'll be back!)
2. Mobile First Design
We mentioned that responsive/mobile-friendly web design isn't optional anymore. In fact, your site should be designed with mobile in mind first. Mobile searches overtook desktop searches way back in 2015 and since the beginning of 2017, mobile traffic has accounted for nearly half of all web traffic worldwide. More than good UX, Google has ranked mobile-friendly sites more favorably since 2018. Yep, mobile-first design is another drop in your SEO bucket.
3. Chatbots
Chatbots are another feature that has been popular for a few years and is going to continue to be relevant in 2020. As artificial intelligence and machine learning continue to get more sophisticated, we expect to see chat bots become the norm for simple customer service requests and "personal shopping," as we discussed a bit ago.
4. SSL Certificates
SSL certificates are less a trend and more of a standard security measure for websites. SSL stands for Secure Sockets Layer and the certificate is installed on your web server. It serves two purposes: it authenticates the identity of the website, which guarantees visitors that they're not on a bogus site, and encrypts the data being transmitted. This ensures a private "conversation" between your website and your visitors. If your site doesn't have an SSL certificate, getting one should be a priority in 2020, especially if you own an ecommerce site!
Website Design Trends in 2020 and 2021: Clean and Eye-Catching
In 2020 and 2021, we expect to see a slew of clean, bright, eye-catching websites that use animation and video to enhance the user experience. And our thumbs should get a break with thumb-friendly design!